Rails Girls London
Making technology more approachable for women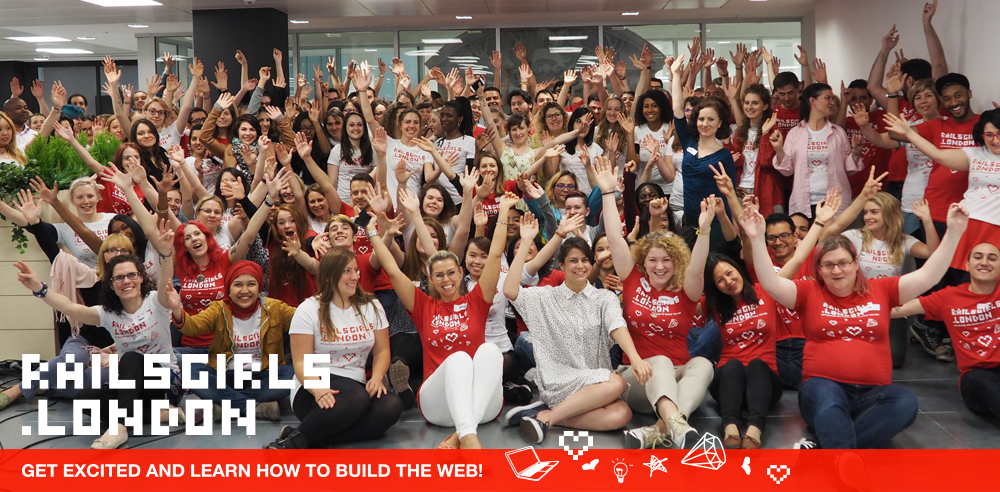 We are making technology more approachable for women. Workshop participants can learn sketching, prototyping, basic programming and get introduced to the world of technology.

Our aim is to give tools and a community for women to understand technology and to build their ideas. We do this by providing a great experience on building things and by making technology more approachable.

We've got an amazing group of coaches and students who are always happy to answer questions and share their experiences on our slack channel: Join us on Slack
Next Rails Girls London Event:
18-19 November 2016
Join us for the upcoming Rails Girls London event. A free 1.5-day workshop where participants will discover the exciting world of web development through Ruby on Rails. With the help and guidance of our experienced coaches, attendees will create a real web application in a fun and relaxed atmosphere.
Where:
King offices, London
What you need:
Your own laptop, curiosity and a sprinkle of imagination.
What you learn:
Designing, prototyping and coding with the help of our coaches.
Want to join?
Sponsors









Sponsor's info
We rely on the generosity of our sponsors to provide us with a venue, catering and refreshments, while also covering the costs of making the whole experience memorable for our attendees. Without this, we would be unable to continue to make such a big impact in the community. Sponsorships and contributions at any level are most welcome. We have several sponsorship packs that can be viewed here.
Hosting Rails Girls
Another way to sponsor Rails Girls London is to provide the venue and catering for a future event.
We currently run workshops for for 200-220 people.
Lets talk: rgl-organisers@googlegroups.com